It was so funny, so witty, brilliantly written...the acting was hilarious!
I don't usually love musicals...but this was the best thing I've seen in years.
You guys are some bad-ass Jews!
It felt like you were creating culture in the moment. It was a community I wanted to be a part of.
Definitely worth coming every year. I plan on coming until I die.
I like the show because I get to be a part of it. That's not something you get at a lot of shows!
It's like Halloween and St. Patrick's Day meets Rocky Horror...But with Jews?
It was more crass that I expected. But...I liked it?
I'm inviting my whole family next year!
Educational, so fun, toe-tapping, AMAZING. We loved it!
The best word that rhymes with Purim is "decorum," which Very Awesome Purim tastefully lacks.
Stay in the loop with exciting updates so you never miss a theme vote, show announcement, or Haman's dance recital.
Thanks to Our 2020 Sponsors!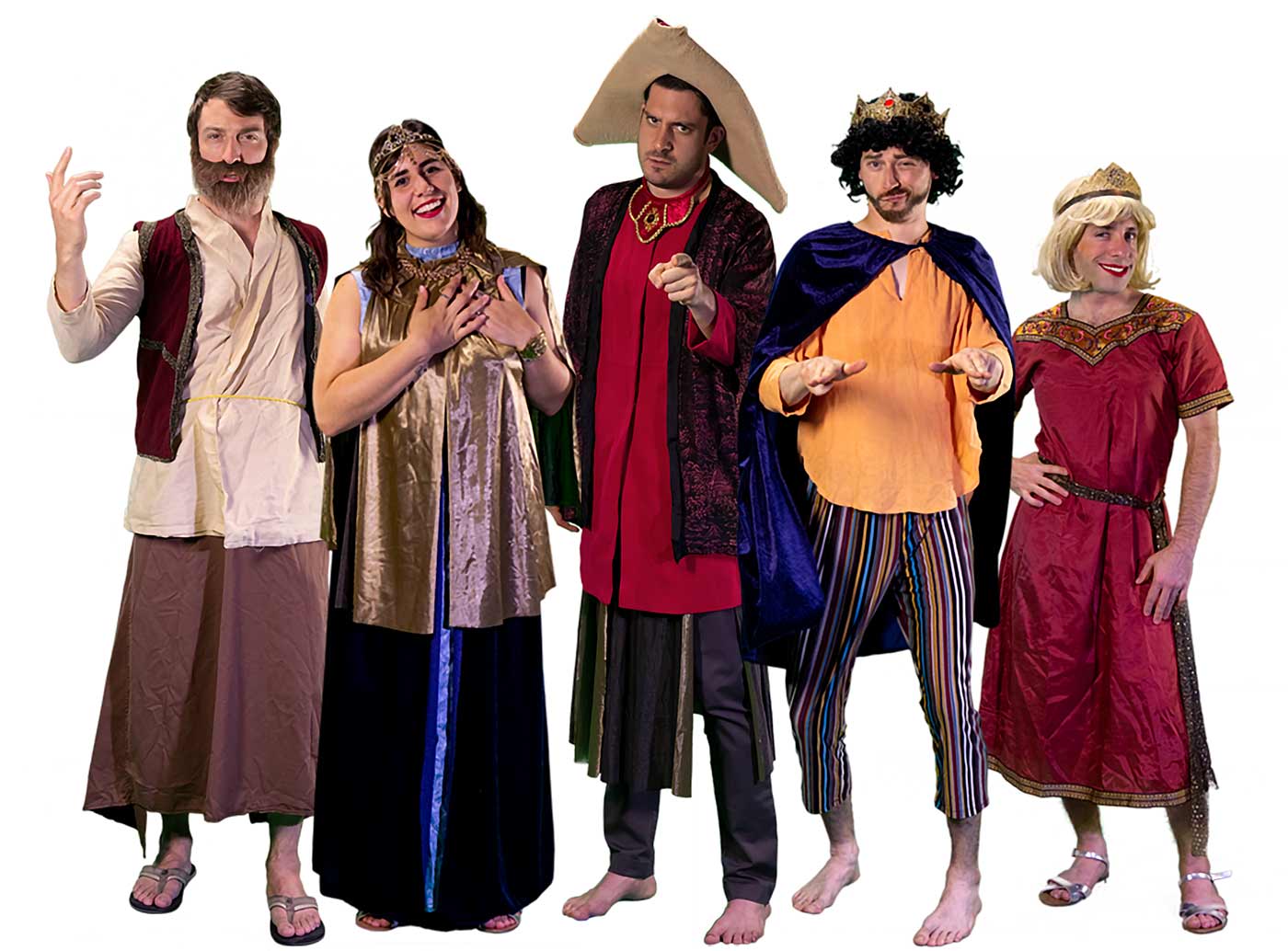 An Old Story that Never Gets Old
A Very Awesome Purim is a genre-driven interactive musical that reimagines the most underrated Jewish holiday to make it a fun celebration for everyone. Come party with us as we introduce you to a drunken king, an evil prime minister, and a clever queen who saves the entire Jewish population. The production strikes a careful balance of off-color humor, on-key parodies, and surprisingly poignant lessons of love and acceptance. With your help, we choose a genre — this year: Pop Legends — then we parody songs within that genre to tell the story of Purim, bringing our audience a completely new experience every year.
An Interactive Musical

Featuring parodies of songs within the chosen theme

Drinking

In Purim tradition, you're supposed to drink until you can't tell the difference between the good guy and the bad guy in the story

A Costume Party

Dress to the theme...or as anything you want. We have a costume contest with prizes

The Greatest Party of the Year

We might be biased. Guess you'll have to find out.
Note: You do not need to be Jewish or know anything about Purim to attend this Purim party. This is a celebration for EVERYONE. However, please do not forget your sense of humor at home. That's no fun for anyone.
Join Josh and Rachael Silverbauer, Co-creators of A Very Awesome Purim, as they get drunk on Manischewitz and tell the story of their favorite Jewish Holiday, Purim.
The Very Awesome Shows Throughout the Years
It started out as a small performance at a house party in 2010. Over the last 10 years, Very Awesome Purim has evolved into a professional stage production selling out 200+ seat venues in Philly and New York.
Have a look at these past shows and the different genres that have been selected by the audience over the years. Here you'll find show recaps, photos, videos, cast member info, and the studio-recorded songs with original lyrics by Josh and Rachael Silverbauer